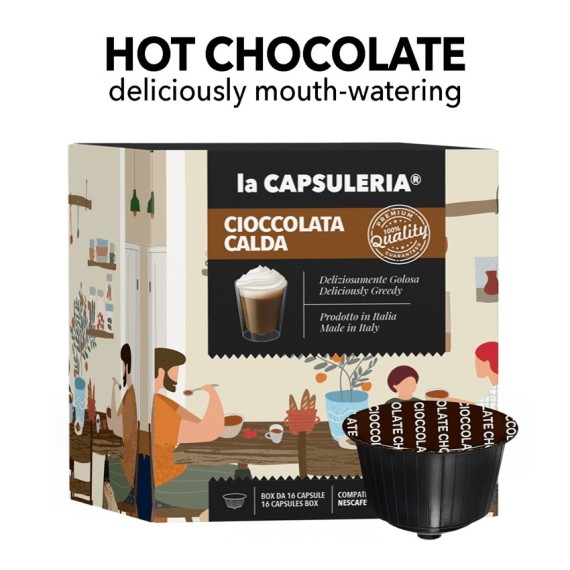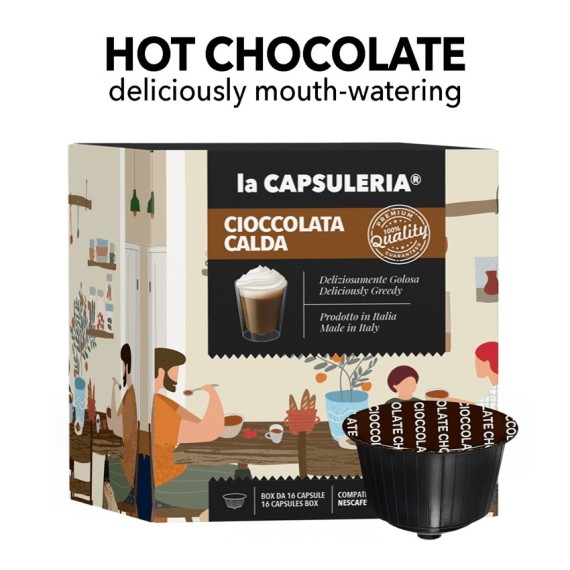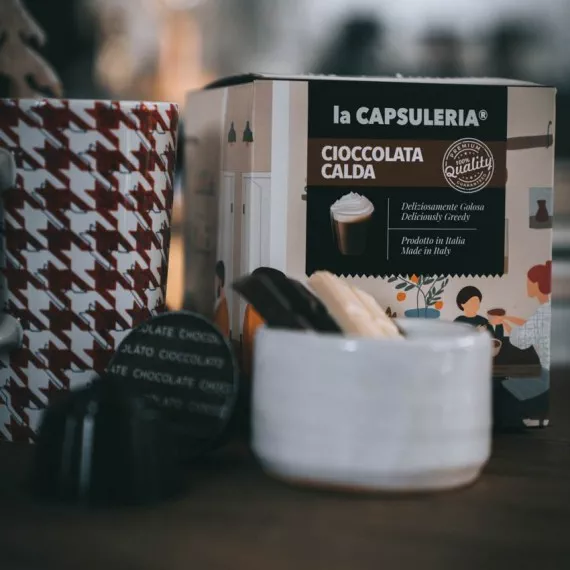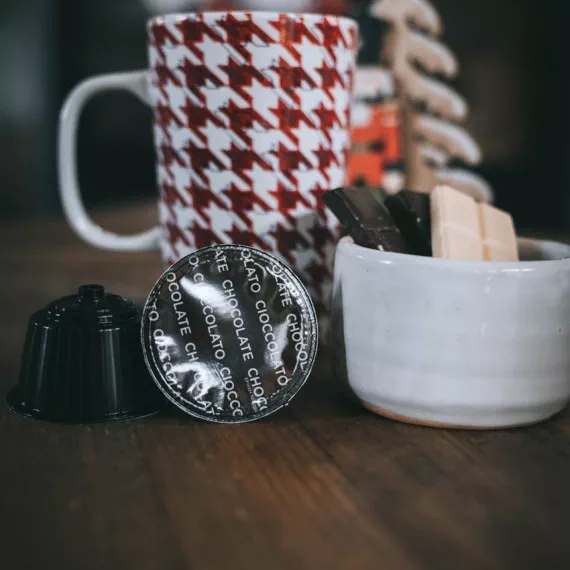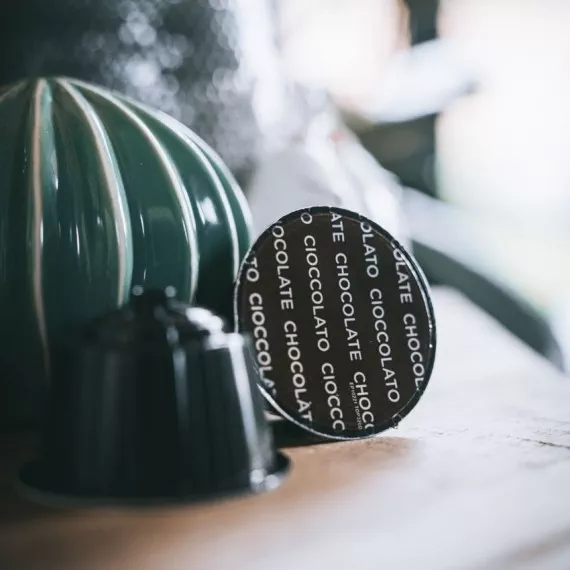 Hot Chocolate - Capsules compatible with Nescafè Dolce Gusto®*
Hot chocolate in an espresso version for the sweet tooth
mini hot and sweet chocolate in an espresso version for those who want to indulge in a delicious greedy treat.
Additional information
Capsules packed in a protected atmosphere. This packaging allows to keep all the aromatic qualities of the content unaltered over time until the expiration date (See Flow Pack / Box)
Via della Tecnica, 18, 36030 Sarcedo VI
Capsules of soluble preparation for hot chocolate flavored drink ready to use compatible with the Nescafè Dolce Gusto®* system
Sugar, low-fat cocoa, whey powder, skimmed milk powder, glucose syrup, non-hydrogenated coconut fat, thickener: E412, salt, stabilizers: E340ii, emulsifiers: E471, soy lecithin, flavorings. Contains milk and derivatives, soy
Store in a cool and dry place and to be consumed preferably by "see print on the package / box"
Energy 1673 kj | Energy 396 kcal | Fats 5,5g of which saturated 4,2g | Carbohydrates 76,8g | of which sugars 69.8g | Protein 7,5g | Salt 1.2g
Capsules compatible with all models of Nescafè Dolce Gusto® * Original machines on the market - Piccolo - Mini Me - Jovia - Stelia - Melody - Drop - Circolo - Oblo
Data sheet:
packaging

Capsules packed in a protected atmosphere. This packaging allows to keep all the aromatic qualities of the content unaltered over time until the expiration date (See Flow Pack / Box)

production plant

Via della Tecnica, 18, 36030 Sarcedo VI

product

Capsules of soluble preparation for hot chocolate flavored drink ready to use compatible with the Nescafè Dolce Gusto®* system

ingredients

Sugar, low-fat cocoa, whey powder, skimmed milk powder, glucose syrup, non-hydrogenated coconut fat, thickener: E412, salt, stabilizers: E340ii, emulsifiers: E471, soy lecithin, flavorings. Contains milk and derivatives, soy

storage info

Store in a cool and dry place and to be consumed preferably by "see print on the package / box"

net weight

7g per Capsule

nutritional values ref. 100g

Energy 1673 kj | Energy 396 kcal | Fats 5,5g of which saturated 4,2g | Carbohydrates 76,8g | of which sugars 69.8g | Protein 7,5g | Salt 1.2g

compatibility

Capsules compatible with all models of Nescafè Dolce Gusto® * Original machines on the market - Piccolo - Mini Me - Jovia - Stelia - Melody - Drop - Circolo - Oblo
Customers who bought this product also bought: