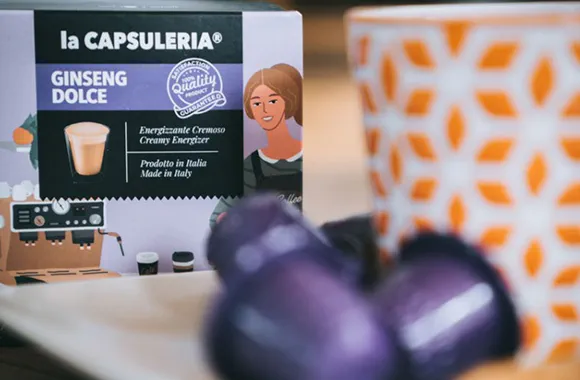 ALL THE BENEFITS OF GINSENG IN PODS/CAPSULES
#pods-ginseng #ginseng-energising
What we talk about in this article:
The extraordinary benefits of Ginseng
Ginseng, known in the East for over 5000 years, is considered to be a true health treasure. Its invigorating and stimulating effect makes it a valuable ally in times of stress, fatigue or weakness. Thanks to its versatility, Ginseng capsules or pods have become a practical and easy-to-use product that allows you to benefit from all the properties of the root without having to prepare infusions or herbal teas.

Ginseng Capsules can be used with any coffee machine, be it a Nespresso or Dolce Gusto compatible pod machine or a machine with a compatible capsule system.

One of the main reasons why Ginseng Capsules or Pods are so popular is their creaminess. Ginseng is extracted and processed to create a soft, light powder that is easy to dissolve in water and blends perfectly with milk or foam. The result is a creamy coffee with an intense yet delicate taste, enriched by the beneficial properties of Ginseng.

But what are the benefits of Ginseng?

Firstly, Ginseng is a natural tonic that helps combat physical and mental fatigue. Thanks to the presence of substances such as ginsenosides, Ginseng can stimulate the nervous system, improve concentration and mood, and increase resistance to stress.

Furthermore, Ginseng has antioxidant and immune-stimulating properties, making it a valuable ally for the immune system and for fighting free radicals. Ginseng can also aid digestion and regulate blood pressure.

In any case, it is important to remember that Ginseng is a dietary supplement and, as such, should be taken with an awareness of one's health condition and according to the recommended dosage.

Finally, some historical background: Ginseng has always been considered a revered plant in the East, where it has been used for centuries in traditional Chinese and Korean medicine. Ginseng was considered an elixir of life and was used to treat numerous ailments, from fatigue to erectile dysfunction.

In the West, Ginseng was only introduced from the 17th century, thanks to the first trade missions that brought the precious roots to Europe. In recent years, Ginseng has become increasingly popular and appreciated in the West too, thanks to its health-promoting properties.

In summary, Ginseng capsules or pods are a practical and convenient way of benefiting from all the properties of this plant of a thousand virtues. With its creamy, enveloping taste, Ginseng in Capsules or Pods is the ideal choice for those seeking a moment of pleasure and well-being, without giving up the convenience and practicality of capsules compatible with their coffee machine.
Ginseng Capsules and Pods