The offer includes:
- 1x 'La Capsuleria' Coffee Machine
- 100 Mixed Coffee Capsules
- 2 Glass Cups + 5 Bonus (Free)
- Free Shipping
- Expires on Sunday
Product Details
coffee machines available
Why should you choose the Capsuleria coffee machine?
I am writing to you because we know what our more than 200,000 satisfied customers want from our 40 shops in Italy and our online shop.

And we are sure that you want it too.

We are 100% sure that you, too, want a coffee that is so good and creamy, mouth-watering, fragrant and tasty that it conquers your mind and goes straight to your heart (because in the end, all the things that really win us over in life have to make us fall in love) and you finally want to rely on a coffee supplier: Fast, Reliable, Italian, that guarantees you a coffee that is always good and creamy and mouth-watering.

Then you have had the dumb luck to stumble upon the perfect page for what you have been looking for: Your ideal coffee supplier: Fast, Reliable, Italian, who will guarantee you consistently good, creamy, mouth-watering coffee.

In life, there is no room for middle ground.

I am sure that you too are not satisfied with what passes you by, but you want only the best. You only want what really satisfies you, in all respects. Obviously according to your possibilities. Otherwise the game is not worth the candle.

And that is precisely why we at Capsuleria want to change your life forever (at least in terms of coffee).

Would you believe it if I told you that there is a coffee machine with which you can make 5 extraordinarily good and creamy types of coffee and 7 deliciously exceptional drinks? And that thanks to its 19 Bar pressure, its extraction technology and its 90 degree temperature, you can always get that result in your cup that you have always dreamt of?

You might think it is impossible.
I'll tell you more: not only is it possible!

But you can have this Coffee Machine at a super price with Capsuleria's Limited Offer:

- 1x Coffee Machine
- 100 Mixed Coffee Capsules included in the price
- 2 Glass Cups (Free)
- Everything shipped for free

Read on to find out how you can take it home today at a super special price...
Which capsules does the Capsuleria coffee machine work with?
Capsuleria's extraordinary coffee machine that gives you mouth-watering, fragrant, creamy coffee and hot, dense, intensely flavoured drinks only works with Capsuleria's patented capsules.

You can see the capsule below: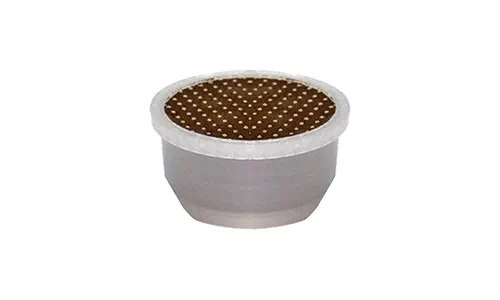 often bought together with the coffee machine:
What distinguishes us from everyone else?
✓ Direct production
✓ Shipping in 1 day
✓ Live customer support
✓ More than 40 shops
✓ 200,000 customers
✓ 40°000 Reviews
✓ Intense, creamy coffees

✓ Perfect compatibility
✓ More than 250 references
✓ Promotions always on
✓ Qualified staff
✓ Choice of 5 couriers
✓ Easy and secure purchasing
✓ Decades of experience

Di seguito puoi leggere le recensioni più recenti dei nostri clienti: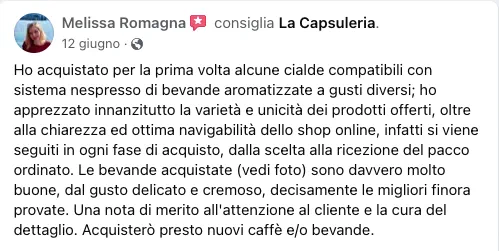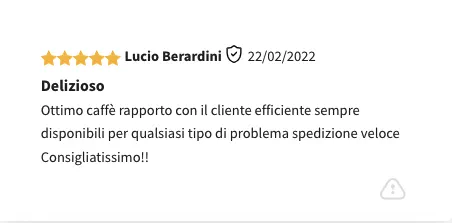 When you order the Capsuleria Coffee Machine, you will first be entitled to Free Shipping so everything will be sent to your preferred address at no extra cost.

Inside the package you will receive with free shipping you will find included in the price:
The Coffee Machine
of the Capsuleria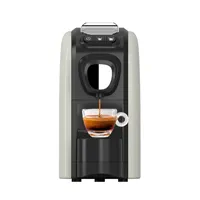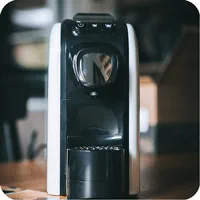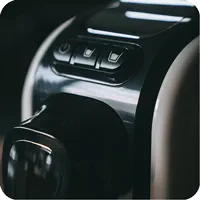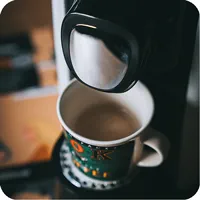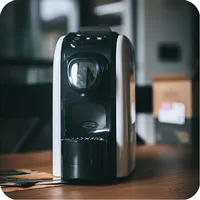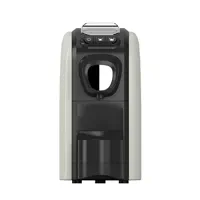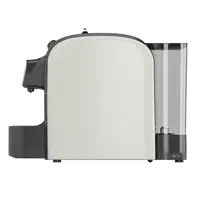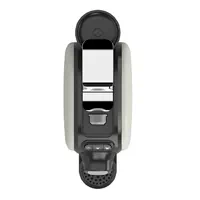 Inside the package, included in the price, you will receive the extraordinary Capsuleria coffee machine.
+ The selection of
our best coffees
100 Capsules: 25,00€ / 0,00€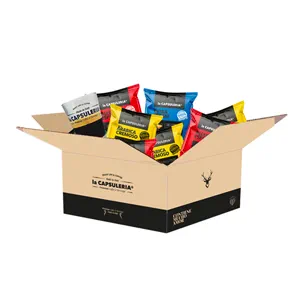 Inside the package, included in the price, you will receive 100 mixed capsules of our best Coffee Capsules for your la Capsuleria coffee machine.

You will then receive the selection of:
Best Strong Coffees 
Best Classic Coffees
Best Creamy Coffees
Best Arabica Coffees
Best Decaffeinated Coffees 

Scroll through the images to see a small overview of the in-cup result of our coffees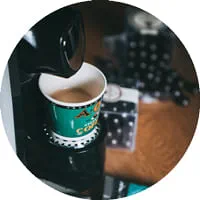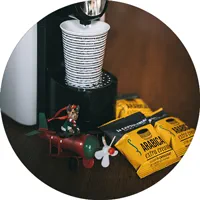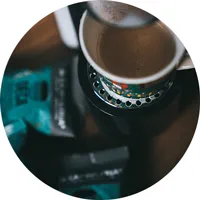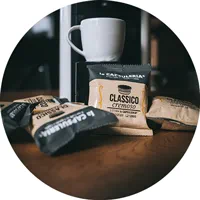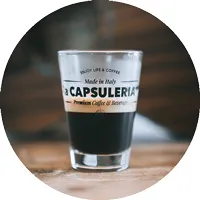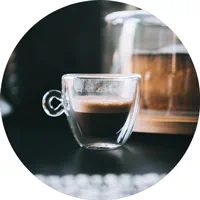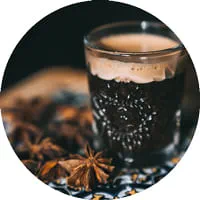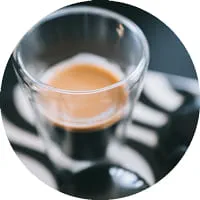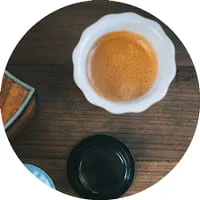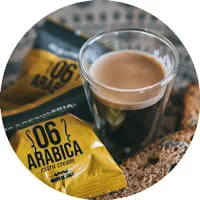 + Two 'Perfect Coffee' glass shot glasses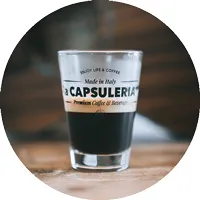 Inside the package, included in the price, you will also receive our glass shot glass that will allow you to get a Perfect Coffee due to its conical shape, specially designed for coffee tasting.

A first pampering to let you know that you are really important to us. You will also find that for all your future orders a small gift will always be guaranteed.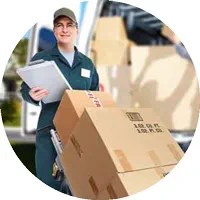 Included in the price you are also entitled to our extra fast express delivery service.

Your order will be processed, prepared, packed with love and dispatched in truly record time. You will be amazed at our speed of delivery.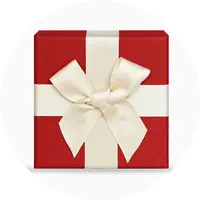 Included in the price you will also receive a secret Super Bonus. Want to know what it is?

Just because it's you, I'll tell you that it's a secret promotional code that you can use on your next order and that will entitle you to free shipping and an instant 10% discount. Really crazy.

You will receive it by e-mail in PDF format.
2nd Bonus
PDF Catalogue Complete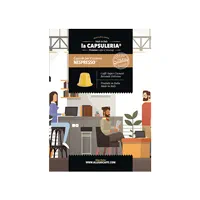 You will also receive included in the price our complete printed catalogue of all coffees, beverages, teas and infusions in Capsules or Pods with a detailed and thorough explanation of all our products specifically for your coffee machine so that you can consult it at your leisure on the couch at home.

You will receive it by e-mail in PDF format.
3rd Bonus
PDF Capsulary History

4th Bonus
PDF Save Machine Guide

5th Bonus
PDF Descaling Guide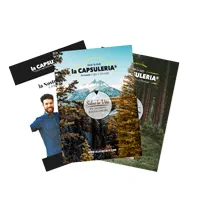 You will also receive the following PDFs included in the price (they will be sent by email immediately after your order)
PDF of our history: In this PDF you can read the story of how Capsuleria was born from the beginning until today.
PDF Machine Save Guide: In this PDF you will find important information on how to carry out regular maintenance on your coffee machine so that it can always work at its maximum performance to guarantee you a coffee that is always intense, hot, creamy and full-bodied.
PDF Descaling Guide: In this PDF we will explain to you step by step in a simple way how to Descale your coffee machine, i.e. how to clean it from all the limescale and coffee residues that naturally build up inside it.
*These guides will be sent by Email in electronic PDF format because our commitment is to eliminate all unnecessary paper usage.
You should know that we process thousands of orders every day, which equates to thousands and thousands of sheets "wasted every day".
We are sure you will appreciate our initiative. We will save thousands of plants around the world every year.
Is the coffee good and creamy?
With our La Capsuleria® machine you will finally be able to enjoy 5 types of Coffee with an exceptional taste starting with strong, roasted and persistent Neapolitan Coffee, passing through soft and fragrant 100% Arabica Coffee up to natural tasting Decaffeinated and 7 delicious Beverages such as Ginseng, Barley, Hazelnut, Mokaccino and many more...

The technology of the machine is very simple, intuitive and at the same time very effective.

The machine is switched on with the power button on the front of the machine. The machine is up to temperature in 30 seconds to dispense your coffee and your Bavande.

After the usual rinsing, the capsule is inserted into the special shaped inlet at the top of the machine, which is opened with a flat sliding lever without any resistance.

At the front are the short and long dispensing buttons. Once the desired text has been pressed, the machine performs a pre-infusion, then starts, stops for just a few seconds so that the hot water stations in the capsule and the coffee or beverage can then be extracted in the best possible way.

Once the desired quantity has been brewed, the brewing button must be pressed again to finish brewing the coffee or beverage.

It is possible to memorise the desired brewing quantity for the Long and Short keys by holding them down during brewing, as also explained in the instruction booklet.
the principle of Capsuleria
La Capsuleria is the story of the Allegri family that has won over tens of thousands of families all over Italy thanks to the quality of their Capsules and Pods of Coffee, Tea and Herbal Teas produced with love entirely in Italy and sold in their Stores under the brand name "la Capsuleria".
"We are already living our Dream and we will do everything to never wake up again. " This is the Allegri family's answer when it comes to Dreams in the drawer. Dad Giuseppe with his sons Davide and Niccolò are the Allegri family.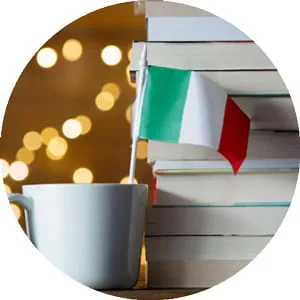 La Capsuleria
Made in Italy concept
The Allegri family have always been great enthusiasts and assiduous consumers of coffee, starting with the dear old Moka and then moving on to more modern and evolved extraction methods with Capsules and Coffee Pods and Automatic Machines.
A passion so visceral, great and powerful that it drove the Allegri family to invest all their life savings in a project that has always had for them the charm and appearance of a dream rather than a business based on simple numbers.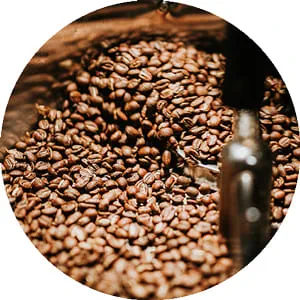 The art of choosing coffee blends
All our coffee blends, contained in our capsules and pods, are derived from a careful selection of coffee origins, carefully selected both by us personally and in collaboration with real experts in the field. They have been perfected over time to meet all the flavour profiles required by our customers.
Coffee might be perceived as a 'banal' drink, but those behind the scenes, those who create the famous 'black beverage', starting from the cultivation of the bean to the actual roasting, know very well that it is not so banal.
Behind it all, leaving aside all that is commercial and profit-making, there is a world made up of a culture born hundreds of years ago in the Middle East with infinite nuances of smell and taste perception. Since we are not really a roasting company, but exclusively expert selectors of coffee blends, we have decided to enter into important collaborations with historical Italian roasting companies, with whom we work in symbiosis, sharing the passion and love for the black beverage, known throughout the world as coffee.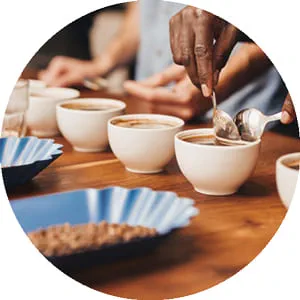 Infinite Possibilities of Choice and Results
The selection of our coffee blends obviously starts from two very precise cornerstones, Arabica and Robusta, the two coffee qualities par excellence, which, through the varieties, cultivation, harvesting, roasting and grinding methods, and the blends that are created from their mix, never random and always aimed at a very precise result, give the possibility of infinite taste variables.
Selecting one or more coffee blends is a magical journey, allowing you to close your eyes and perceive the aromas and all the aromatic nuances, and allowing you to travel the world without ever having left.
Starting with our selected Arabicas, more aromatic, spicier, sweeter, more fragrant with notes of flowers, honey, red fruits, cereals, citrus fruits... 
Going all the way to our selected Robustas, with a stronger aromatic profile, more persistent, with notes of wood, cocoa, biscuits, toasted bread, hazelnuts, chocolate, ash and earth...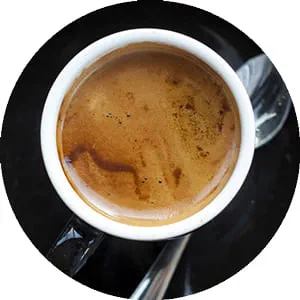 Precise and conscious choice
Based on these notions, the selection days of our coffee blends are characterised by a very precise schedule:
Choosing the end result in the cup
To define the first stage, it seems like a nonsense, but we start with the end result we want to achieve. We therefore start with a well-defined idea of the result in the cup that we want, and that the market wants.
It will therefore be a coffee that is more or less intense, persistent, bitter, with sweet or perfumed notes, more acidic or more astringent...we could go on and on. Without a clear idea of what we want to achieve, we do not even begin.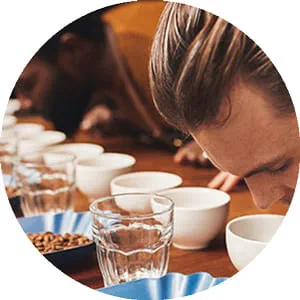 Defining the end result in the cup
Once we have defined the aromatic profile we want to achieve, we sit down with our Italian partner roasting company.
Here we enter the magical world of choosing the coffee blends, the Arabica and Robusta varieties, the percentages that will give life to the blends, the choice of origins according to the aromatic notes we want to give our coffee, which can be the most varied:
From cocoa to liquorice, floral bouquet, wood, ash, earth, citrus, spices...
An overdose for the taste buds, the sense of smell and the sight.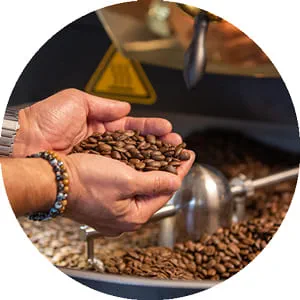 Once we have defined the origins of our coffee, the blend or the single-origin blend, always aiming at the end result, we carefully analyse the production cycle, another fundamental component in determining an excellent final yield.
The coffee beans of the chosen origins leave the coffee plantations of reference. They arrive at the roasting plantation still 'raw', i.e. green, in the characteristic jute sacks.
The first production step is roasting, i.e. the actual 'cooking of the beans'. Roasting the beans is also a true art; depending on the various roasting curves, different flavour profiles can be obtained while maintaining the same type of blend.
Certain blends are roasted already as blends, in other cases the blend is created after roasting...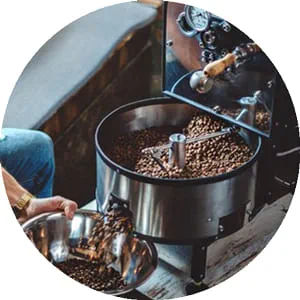 ...always depending on the aromatic result you want to achieve.
Roasting is a key point depending on the intensity and perception of certain aromatic notes in the coffee depending on the desired end result. The more a bean is roasted, the more intense and properly roasted, woody, ashy aromatic profile is given to it.
By playing with time, temperatures and roasting curves, it is possible to define whether a particular type of coffee is to be enhanced with certain aromas or not.
Usually, after this phase, we do a first tasting with a bar machine, then the roasted beans are ground by us with a manual grinder, after which, we do the first tasting trials, with different grindings, without sugar, with medium sugar up to the classic sachet, the most commonly used sweetening method on the market.
Here is where you start to focus on taste perception. One closes one's eyes and begins the sensory journey into all the nuances of the aromatic profile of the first coffee result.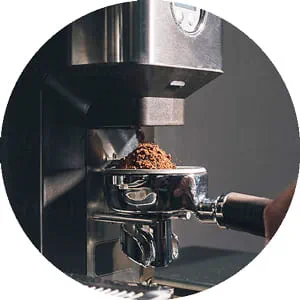 After the first sensory tasting, we come to a first definition of both the roasting of the blend or mix of the chosen origins, until we reach another very important step in the production cycle, which is the grinding of our coffee beans.
This is a very important metre in terms of flavour profile, delivery, and the amount of coffee in the capsule.
The finer the beans are ground, the finer the result will be a very fine powder, with an increasingly full-bodied, rounded and syrupy in-cup result.
The last production step is precisely the encapsulation of the ground coffee in capsules, which is done automatically by the encapsulating machine, after being specially equipped for the blend chosen according to the previously selected parameters of the final product.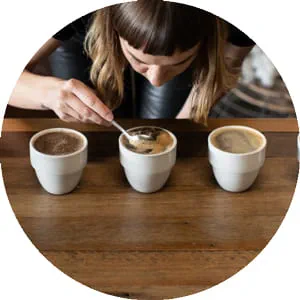 With the coffee machine, attention is first paid to the brewing, which must be smooth and never interrupted. After that, attention shifts to the creaminess, the coffee must always be dense, syrupy and full-bodied, and finally, the aromatic notes chosen in the initial phase are confirmed, which must be found in every cup of coffee to ensure that the coffee is always of the highest quality.
The End of the Magic Journey
Finally, the part we like best, sample after sample we all carry out several tasting tests together, always using various sweetening methods, comparing perceptions, immediate and aftertaste aromatic nuances, peaks of acidity and astringency.
It is a magical journey with open eyes in a mechanical/industrial process that has a very strong human, emotional component and is all aimed at that final result enclosed in a small cup of coffee that has made us dream and fall in love so much. 
And may Capsuleria's dream never end... the dream of bringing authentic, Italian, quality espresso into the homes of millions.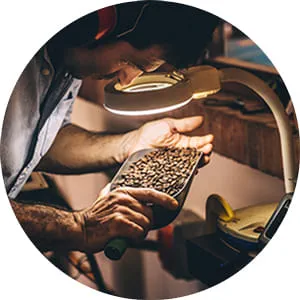 Coffee chosen with love and passion
Our blends start their journey from the best plantations in South/Central America, India and Africa and are then roasted in Italy in the cities of Brescia, Vicenza, Padua and Siracusa.
In the roasting plants with which we collaborate, the Arabica and Robusta blends we have meticulously studied are created, unique in their taste and creaminess.
Our green coffee is processed through roasting, grinding and encapsulation. The steps are monitored by employees who check the quality, delivery, aroma, notes and body.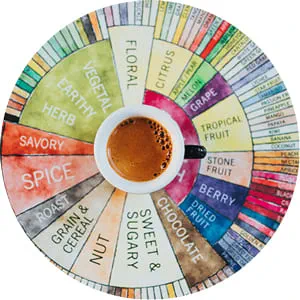 A unique and magical sensory journey
Tasting one or more of our coffee blends will take you on a magical journey through the perception of aromas and all the aromatic nuances in your cup of coffee.
You will start with our most aromatic, spiciest, sweetest and most fragrant Arabica coffees, with notes of flowers, honey, red fruits, cereals and citrus fruits, which will take you to Brazil, Colombia, Ethiopia and Nicaragua... And you will end up with our Robust coffees, with a stronger, more persistent aromatic profile, with notes of wood, cocoa, biscuits, toasted bread, hazelnuts, chocolate, ash and earth, which will take you to India, Vietnam, Uganda and Tanzania.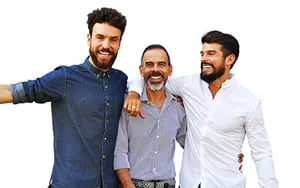 The Magic Journey of Coffee narrated by:
Giuseppe, Davide
and Niccolò Allegri. 
The three souls of Capsuleria. 
The Founders
Perfect sweetness combined with this product
Product Reviews / Q&A
Reviews (5)

All reviews (5)
Has image/video (2)
Excellent (5)
Good (0)
Medium (0)
Poor (0)
Terrible (0)

Latest
Oldest
High rating
Low rating
Helpful
Customers who bought this product also bought