SPECIAL OFFER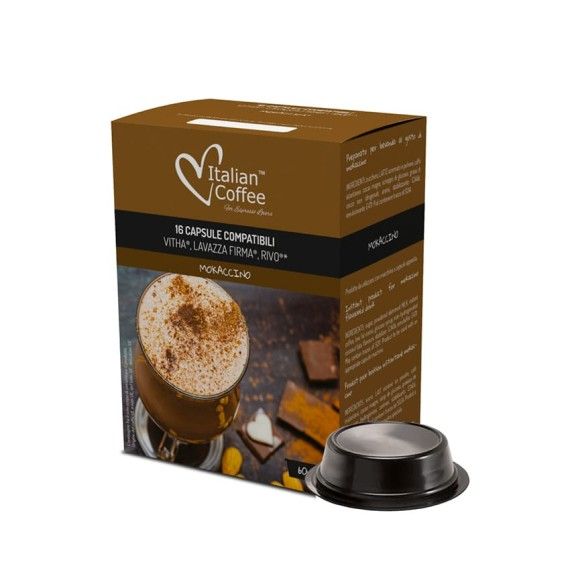 Coffee, milk and cocoa for a mouth-watering mokaccino
Intensity
A drink with an intense, sweet, full and enveloping taste
Quantity ml
60ml
Dispense the beverage until it fills a coffee cup in order to enjoy it to the fullest.
Product Details
For the most demanding we have combined coffee, chocolate and milk in one capsule. Enjoy it at any time of day due to its low caffeine level.

It is a creamy and sweet drink suitable for everyone
Packaging
Self-protected capsule that preserves all coffee and drink aromas to perfection
Waste disposal
Separate all components: Outer Box [Paper] - Capsule Casing [Plastic].
Compatibility
Capsules compatible with all models of Lavazza* Firma* machines
Perfect sweetness combined with this product
Additional information
Capsules packed in a protected atmosphere. This packaging allows to keep all the aromatic qualities of the content unaltered over time until the expiration date (See Flow Pack / Box)
Via Rossi, 3 / F – 35030 Rubano (PD)
Store in a cool and dry place and to be consumed preferably by "see print on the package / box"
Capsules compatible with all models of Lavazza Firma / Vitha®* machines
Data sheet:
productpackaging

Capsules packed in a protected atmosphere. This packaging allows to keep all the aromatic qualities of the content unaltered over time until the expiration date (See Flow Pack / Box)

production plant

Via Rossi, 3 / F – 35030 Rubano (PD)

storage info

Store in a cool and dry place and to be consumed preferably by "see print on the package / box"

compatibility

Capsules compatible with all models of Lavazza Firma / Vitha®* machines

spiegazione intensità

A drink with an intense, sweet, full and enveloping taste

erogazione

60ml

spiegazione erogazione

Dispense the beverage until it fills a coffee cup in order to enjoy it to the fullest.

packaging

Self-protected capsule that preserves all coffee and drink aromas to perfection

smaltimento

Separate all components: Outer Box [Paper] - Capsule Casing [Plastic].

macchinecompatibili

Capsules compatible with all models of Lavazza* Firma* machines
Product Reviews / Q&A
Reviews (1)

All reviews (1)
Has image/video (0)
Excellent (1)
Good (0)
Medium (0)
Poor (0)
Terrible (0)

Latest
Oldest
High rating
Low rating
Helpful
Customers who bought this product also bought