Hot, sweet and creamy chocolate
Intensity
Mouth-watering, sweet, tasty and creamy drink
Quantity ml
60ml
We recommend espresso coffee in a small cup to enjoy this coffee to the fullest.
Product Details
Mouth-watering and sweet mini hot chocolate suitable for the whole family.

Watch out for those with a sweet tooth because they could run out of this chocolate in no time.
Packaging
Self-protected capsule that preserves all coffee and drink aromas to perfection
Waste disposal
Separate all components: Outer Box [Paper] - Capsule Casing [Plastic].
Compatibility
Capsules compatible for all Nespresso* coffee machine models
Product Additional Details
100% Made in Italy
Prodotto con amore e passione in Italia
Made with love and passion in Italy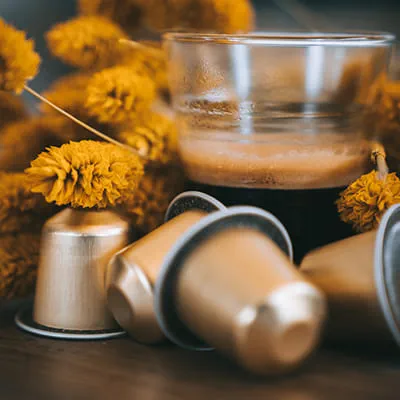 Perfect Capsules
Our Nespresso* compatible capsules are the fruit of years of research, studies and laboratory tests. In fact, we guarantee 110% perfect compatibility with all Nespresso* machine models on the market with the guarantee of a coffee that will always be intense, creamy, full-bodied and delicious to the palate.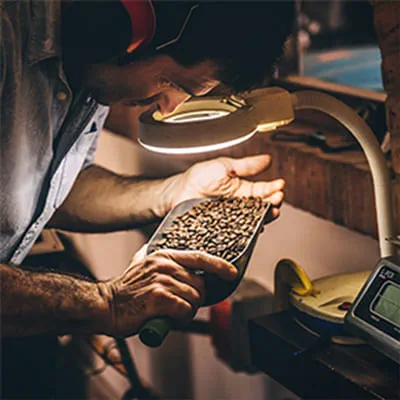 Love and Passion
Every single production of coffee, beverages, tea and herbal teas is carefully controlled in every aspect: starting with the cultivation of the bean, then on to transport, roasting, packaging and finally to the preparation of your order, which is always carried out with care and love by highly trained and qualified staff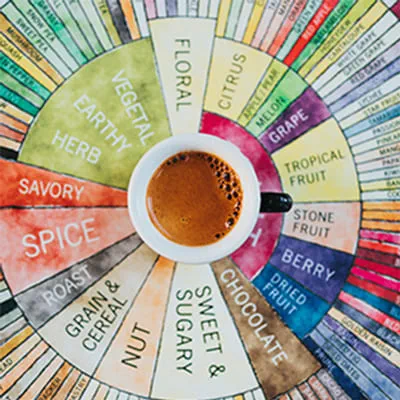 A magical journey
Creating a coffee blend a magical journey that allows you to close your eyes and through the perception of aromas allows you to travel the world without ever having left. Our aim is that you too can take this fabulous magical journey around the world every time you drink a cup of La Capsuleria coffee
Compatibility
Capsules compatible with all the following Nespresso* coffee machine models:
Additional information
Capsules packed in a protected atmosphere. This packaging allows to keep all the aromatic qualities of the content unaltered over time until the expiration date (See Flow Pack / Box)
Capsules compatible with all Nespresso®* machines Original - Essenza - Mini Essenza - Inissia - Prodigio - Pixie - U - Citiz - Lattissima One - Gamma Lattissima - Expert etc..
Via della Tecnica, 18, 36030 Sarcedo VI Via della Tecnica 18 36030 Sarcedo VI
Capsules of soluble preparate for beverage hot chocolate flavored ready to use compatible with the Nespresso®* system
Sugar, low-fat cocoa, whey powder, skimmed milk powder, glucose syrup, non-hydrogenated coconut fat, thickener: E412, salt, stabilizers: E340ii, emulsifiers: E471, soy lecithin, flavorings. Contains milk and derivatives, soy
Store in a cool and dry place and to be consumed preferably by "see print on the package / box"
Energy 1673 kj | Energy 396 kcal | Fats 5,5g of which saturated 4,2g | Carbohydrates 76,8g | of which sugars 69.8g | Protein 7,5g | Salt 1.2g
Data sheet:
productpackaging

Capsules packed in a protected atmosphere. This packaging allows to keep all the aromatic qualities of the content unaltered over time until the expiration date (See Flow Pack / Box)

compatibility

Capsules compatible with all Nespresso®* machines Original - Essenza - Mini Essenza - Inissia - Prodigio - Pixie - U - Citiz - Lattissima One - Gamma Lattissima - Expert etc..

production plant

Via della Tecnica, 18, 36030 Sarcedo VI
Via della Tecnica 18 36030 Sarcedo VI

product

Capsules of soluble preparate for beverage hot chocolate flavored ready to use compatible with the Nespresso®* system

ingredients

Sugar, low-fat cocoa, whey powder, skimmed milk powder, glucose syrup, non-hydrogenated coconut fat, thickener: E412, salt, stabilizers: E340ii, emulsifiers: E471, soy lecithin, flavorings. Contains milk and derivatives, soy

storage info

Store in a cool and dry place and to be consumed preferably by "see print on the package / box"

net weight

7g per Capsule

nutritional values ref. 100g

Energy 1673 kj | Energy 396 kcal | Fats 5,5g of which saturated 4,2g | Carbohydrates 76,8g | of which sugars 69.8g | Protein 7,5g | Salt 1.2g

spiegazione intensità

Mouth-watering, sweet, tasty and creamy drink

erogazione

60ml

spiegazione erogazione

We recommend espresso coffee in a small cup to enjoy this coffee to the fullest.

packaging

Self-protected capsule that preserves all coffee and drink aromas to perfection

smaltimento

Separate all components: Outer Box [Paper] - Capsule Casing [Plastic].

macchinecompatibili

Capsules compatible for all Nespresso* coffee machine models
Product Reviews / Q&A
Reviews (53)

All reviews (53)
Has image/video (2)
Excellent (42)
Good (3)
Medium (5)
Poor (0)
Terrible (0)

Latest
Oldest
High rating
Low rating
Helpful
Customers who bought this product also bought